Technology has brought about a massive and welcome change to the healthcare industry. Patients now have access to some of the best diagnostic tools, new and cutting-edge treatments, and a myriad of minimally-invasive procedures resulting in less pain and quicker healing.
Remote consultations with specialists, targeted treatments, and the availability of intuitive mobile apps have led to improved patient care and a superior healthcare experience overall. Additionally, the availability of newer treatment technologies leading to better outcomes has enhanced the quality of life of the patients as well.
The following aspects explain how technology has changed the healthcare industry.
Digitization of Health Records
Dusty and bulky paper files are slowly giving way to streamlined digital records that are securely uploaded to the cloud and made accessible remotely to patients and healthcare professionals. By this, storing, management, and transmission of data becomes easy and quick. Support for clinical decisions is made available to professionals and patients; making it possible to take better, more informed medical decisions. Digitization of health records also facilitates efficiency and delivery of healthcare to remote or inaccessible locations. This digitization has the potential to streamline processes, improve patient outcomes, and reduce costs.
Mobile App Technology in the Medical Field
Not only do patients have access to quick and accurate medical information using their handheld devices, but they can also use apps to keep track of doctor's appointments, get reminders to take their medications. Health and fitness apps help people get healthier by tracking their food intake and activity levels and offering customized solutions.
These apps can also help physicians in high-stress jobs by reducing time spent in the filing, record maintenance, and other routine tasks. Mobile apps provide access to drug information to help prevent side effects and interactions, solve problems, and improve diagnosis. Doctors can communicate directly with their patients, record their vital signs accurately, maintain logs about visits and consultations, and achieve greater procedural efficiency.
Electronic Medical Records
Electronic medical records or Electronic Health Records (EHRs) consist of digital summaries of a patient's medical records. They could include diagnoses, lab reports, and details about hospital stays, surgical interventions, and prescriptions. They offer an overview of a patient's health; permitting a more accurate diagnosis and improved patient care.
These electronic records facilitate the easy sharing of information and collaboration between labs and specialists without the time and resource expenditure on physical transmission. EHRs provide healthcare professionals with information about patient allergies and intolerances and anything else that may be relevant; particularly important if the patient is unconscious.
When properly maintained and implemented, EHR protocols can also help increase accountability and reduce malpractice. Electronic records are easier and less time to consume to create and maintain. They make life easier for medical accountants and reduce the chance of mistakes being made.
Big Data and the Cloud
Big data is a buzzword in different industries, including healthcare. This is because the generation and collection of huge amounts of data from a number of different sources in the healthcare field are now possible. This data is then used for analytics, making predictions about possible epidemics and ultimately preventing deaths.
Cloud storage of data helps improve efficiency and accessibility while reducing wastage. This also helps in research and development of new treatment protocols and lifesaving pharmaceutical formulations. In fact, cloud services can be invaluable for medical research, providing vast amounts of research and analysis and facilitating efficient health information exchange. The cloud provides secure and cost-effective storage solutions, with backup and recovery features, but without the hassle and cost of maintaining additional server hardware.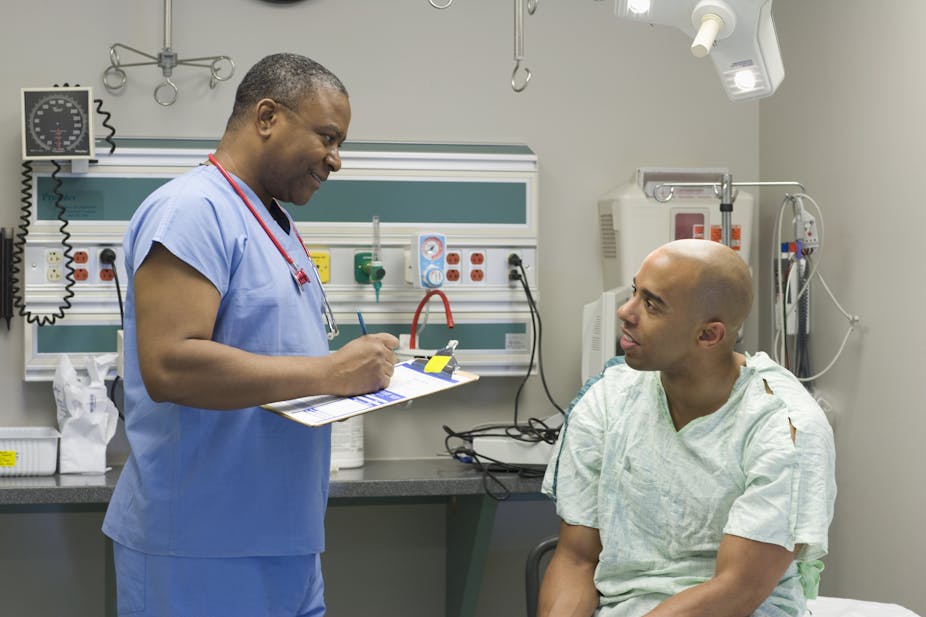 Improved Patient Care
Technology has placed at the disposal of the healthcare community various potent tools to improve patient care. Since EHRs are easily available to physicians, they can access complete medical histories of patients and make the most well-considered medical decisions. Doctors can quickly identify possible medication errors. They can do this by using apps such as barcode scanners and patient safety improves as a result.
RFID (radio-frequency identification) technology also helps enhance patient care by providing information about the patient's vital signs, and temperature. It facilitates real-time tracking of location, communication, and identification. There are other ways in which technology has to improve patient care: 3D printing is now used to create prosthetics, customized dental devices, and even hearing aids.
Virtual reality devices and apps help ease symptoms of depression and anxiety in older people and patients with mental illnesses and can also help people with their postoperative recovery process. The augmented reality now helps surgeons and their teams perform complex operations. Virtual and augmented reality devices can also help improve health and fitness outcomes among patients. With the availability of procedures like robotic knee replacement and the use of gene therapy in cancer treatment, it is evident that the role of technology in healthcare is bound to grow exponentially in the time to come.
Information and Communication Technology
Developments in information and communication technology are constantly improving and streamlining how the healthcare industry functions and how patients interact with their care providers. Medical experts have access to comprehensive research studies as well as diverse population groups that offer new insight into genetics, diseases and care outcomes.
Care providers can compare patient data with many other patients, identify risk factors, and suggest preventive treatments using this new technology. This technology has given a huge boost to medical tourism; making it possible for patients to get in touch with specialists in practically any part of the world for consultations and second opinions; regardless of where they themselves are located. Following remote communications such as video conferences, patients can then travel to another country to receive specialized treatment or highly advanced surgery.
Telemedicine/Telehealth
Telemedicine takes the digitization of healthcare to its next logical step; letting patients consult with specialist practically anywhere in the world. This is technology applied to the healthcare system to overcome distance barriers and facilitate critical care in emergency situations; potentially saving lives.
Telemedicine has made it possible for patients to use telemedical devices to receive home care and support using various applications and video telephony. In telemedicine, the store-and-forward feature helps transmit biosignals, medical images, and other data to a specialist to facilitate asynchronous consultations (which don't require both parties to remain present or online at the same time). This can significantly reduce waiting time for patients; speeding up treatment delivery processes.
Telemedicine facilitates remote patient monitoring by healthcare professions. This can help manage chronic conditions effectively and economically with the help of various apps and devices. Additionally, real-time interactive services make it possible for patients to consult electronically with healthcare providers. This is essentially video conferencing that helps with diagnosis, management, counselling, and patient monitoring.
Conclusion
Technological developments are better adopted into the healthcare fields in some parts of the world than others. Developed nations have been able to harness technology more efficiently for improved patient care; however, developing nations are catching up quickly. Healthcare providers who haven't yet adopted the tools technology places at their disposal are realizing their vast untapped potential and are making the changes and the investments required to streamline processes, lower costs, increase efficiency and most importantly, to improve quality of care.